The Children's Trust is on a mission to end child abuse in Massachusetts.

Each April, in recognition of Child Abuse Prevention Month, the organization gathers at the Grand Staircase of the MA State House for its annual Step Up for Kids event. 85 pairs of shoes will be on display to represent the average number of confirmed cases of child abuse and neglect every day in Massachusetts.
Step Up for Kids recognizes the impact of evidence-based programs and leaders in Massachusetts that provide vital resources to parents, educators, caregivers, and family support professionals. The Children's Trust's programs, many in partnership with key stakeholders from the public, private, and nonprofit sectors, help children and families thrive and break cycles of abuse and neglect.
Join us this year on Tuesday, April 25 at the Grand Staircase to help end child abuse! Learn more at childrenstrustma.org/steps.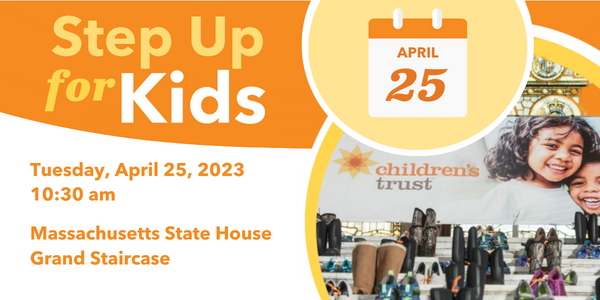 This year, the Children's Trust will honor Senator Adam Gomez (D-Springfield) and Representative Aaron Michlewitz, Chairman of the House Committee on Ways & Means, (D-Boston), for their commitment to supporting programs that stop child abuse before it happens. The Massachusetts Legislature has been a key partner in the Children's Trust's child sexual abuse prevention work, providing critical funding to launch and implement a host of tools and trainings to help youth-serving agencies like schools, after-school programs, and early education centers, keep the children in their care safe from child sexual abuse.
The Children's Trust's work also builds on efforts at other state agencies to strengthen families, build positive childhood experiences, and prevent abuse and neglect. When needed, the Children's Trust connects families with local DCF-funded Family Resource Centers and EEC funded Coordinated Family and Community Engagement programs for parent education groups, access to professionals, and resources such as clothing closets or diapers. The MA Home Visiting Initiative, funded through federal dollars administered by the Department of Public Health, co-funds and works closely with the Healthy Families MA team to ensure that as many families as possible can receive high-quality home visiting. The Children's Trust also cochairs the Legislative Task Force on the Prevention of Child Sexual Abuse with the Office of the Child Advocate and public and private youth-serving organizations. This work includes a one-of-a-kind website, SafeKidsThrive.org, designed to help youth-serving organizations implement child sexual abuse prevention plans tailored to the needs of their programs and the communities they serve.

These are a few examples of the many partnerships the Children's Trust leverages to bring safe and nurturing relationships to every community to help families thrive and keep children safe.