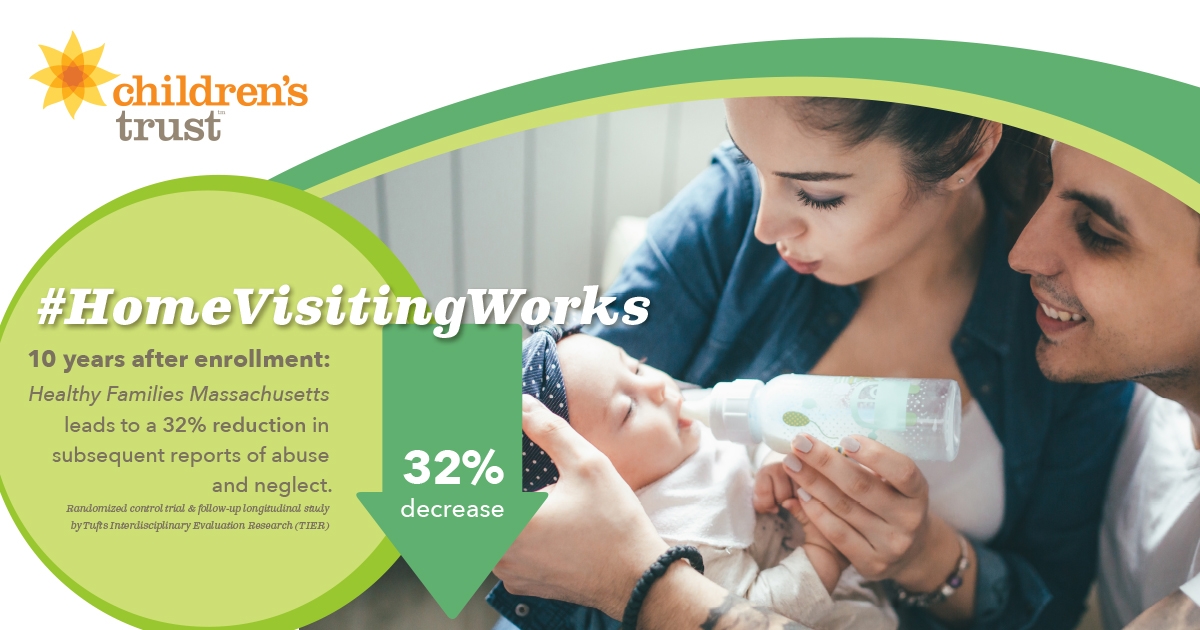 This month's issue of the American Journal of Public Health (AJPH), featured new data from a Tufts University evaluation of the Children's Trust Healthy Families program.
More than 50% of the young mothers enrolled in Healthy Families Massachusetts were confirmed as abused or neglected in their own childhoods and one-third were in foster care as children. Parents with a history of abuse in their own childhood are much more likely to abuse or neglect their own children. But the Tufts evaluation shows that, by connecting parents with a Healthy Families home visitor, the cycle can be broken.
The AJPH article highlights newly released findings showing that the small number of parents in Healthy Families who were reported to child protective services were 32% less likely to receive a second report compared to their peers in the control group. Talk about a lasting impact – 6 years after completing the program.
The longitudinal Tufts evaluation has proven that the program is having a wide range of positive impacts on children and families, including:
lowering parents' risky behaviors, like drug and alcohol abuse,
reducing homelessness and dependence on cash assistance,
and increasing parents' employment and educational attainment (which helps the economic stability of the family).
Healthy Families Massachusetts provides in-home family support and parent coaching services, including goal-setting, developmental and health screenings, and referral services. The program works to prevent child maltreatment and repeat pregnancies, and promote child health and development; educational attainment, employment, and life skills; and parental health and well-being.
These latest results provide hope that we are on the right path to one day ending child abuse in Massachusetts.