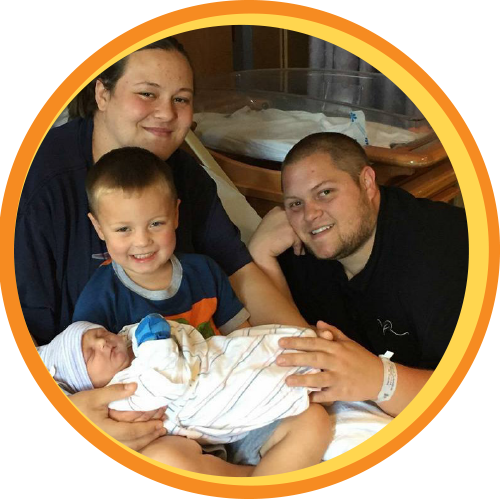 An opportunity to be the best mom possible. To create a safe, healthy home for her children. The opportunity to do that and more is what the Children's Trust Healthy Families program provided to Regina.
Regina bounced from foster home to foster home as a child. "I didn't have a great childhood," she says. "But I do not let that stop me from who I am today."
"I was in DCF since I was 6 years old and moved more times than I could count. If I wasn't involved in Healthy Families, I wouldn't be as great of a mother as I am today!" -Regina Serverius
At age 18, she came to our program six months pregnant and needed the unique support that we provide to teen moms and dads across Massachusetts. Healthy Families provided Regina and her boyfriend, Anthony, in-home parent coaching, support groups tailored to them, and access to community resources. Soon-to-be teen parents, they were scared, unsure and felt alone.
Regina said, "Healthy Families gave me hope of being a great mom, no matter how old I was and what everyone might have thought of me. Healthy Families held support groups, helped me emotionally."
"If I had never been involved with Healthy Families, I wouldn't have had as much support as I do now," she said. "I wouldn't be as great of a mother as I am today or made it this far without the program!"
The Children's Trust helped Regina develop her strengths and skills as a mother, and today, she and her family are thriving. Regina is now raising her two young boys, ages 7 and 3, with Anthony in Amesbury. She graduated from college and loves her job as a supervisor at Vinfen, a health and human services organization.
Thanks to our supporters, we are able to provide high-quality programs to transform the lives of children and families in Massachusetts.